0.75X Converter for 55mm FL Partially Telecentric Lens
Product Family Description
2/3", C-Mount Lens
Up to 1.3 MegaPixels, 7µm Pixel Size Sensors
Function as Both Macro and Telecentric Lens
±12.5mm of Object Movement Before 1% Error Image Scale Occurs
Telecentric lenses yield constant magnification over a range of working distances, virtually eliminating viewing angle error. The 55mm focal length telecentric lens allows ±12.5mm of object movement (at 0.5X magnification) before a 1% error in image scale occurs, while conventional lenses permit typically ±1.7mm of movement under the same conditions. The lens' protective window (at C-Mount end) needs to be removed for use with adapter lenses.
These lenses are ideal in machine vision applications requiring accurate measurement of three-dimensional objects with slight height variations. By eliminating the perspective distortion and magnification error inherent in conventional lenses, they yield dimensionally accurate images that are easily interpreted by software.
For mounting these lenses, our Industrial Boom Stands and mounting adapters are recommended as workstation platforms. Ring light guides can not be mounted directly on this lens because of the front focusing adjustment.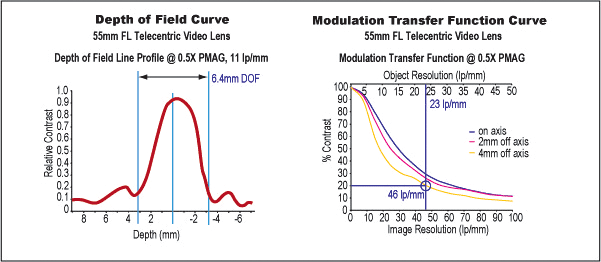 Technical Information
Telecentric Specifications
Non-Telecentric Specifications
Lens with 2X Converter
Lens with 2X Converter
Lens with 0.75X Converter
Primary Magnification PMAG
1.0X - 0.4X (full range)
1.0X - 0X
0.375X - 0X
Field of View
6.4 - 16.0mm
6.4mm - 3.3°
17.0 - 8.9°
Working Distance
5.25" - 11.25"
5.25" - ∞
5" - ∞