3mm x 8' Liquid Light Guide
Ferrule Diameter (inches):
0.312
Regulatory Compliance
Product Description
Product Family Description
NA = 0.55
No Packing Fraction Loss
Excellent UV Transmission Properties
Higher Overall Transmission than Glass Bundles
Our line of economically priced liquid light guides are ideal for visible and ultraviolet illumination requirements. Unlike glass light guides, liquid guides do not suffer from packing fraction losses—spaces between fibers that cause reduced coupling efficiency (see diagram). These liquid guides cut off the near infrared spectrum, yielding both optimum transmission for visible applications and smaller bandpass for higher contrast color images. Reduced long-wavelength transmission results in slightly bluer, higher color temperature output. Repeated handling of liquid light guides does not result in the breakage typical of glass bundles, which reduces efficiency over time. Liquid light guides use quartz windows to seal in non-toxic transmissive medium. Our liquid light guides connect to illuminators and filter mounts via the Fiber Optic Adapter #38-944.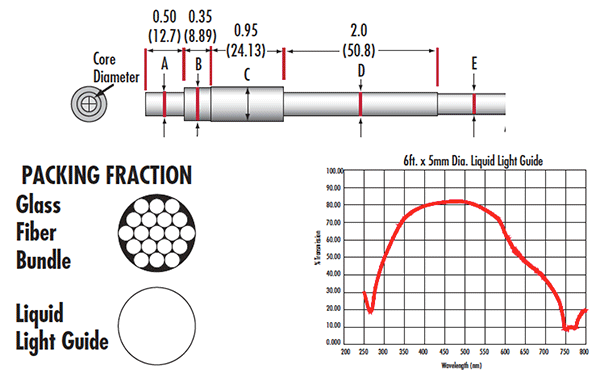 Technical Information
Core Diameter
A
B
C
D
E
Stock No.
3mm
0.312"
0.43"
0.50"
0.31"
0.27"
#53-689
3mm
0.312"
0.43"
0.50"
0.31"
0.27"
#53-692
4mm
0.312"
0.50"
0.50"
0.39"
0.37"
#53-690
4mm
0.312"
0.50"
0.50"
0.39"
0.37"
#53-693
5mm
0.312"
0.56"
0.60"
0.43"
0.41"
#53-691
5mm
0.312"
0.56"
0.60"
0.43"
0.41"
#53-694