Video Lens - Infinimax Main Body
Primary Magnification PMAG:
Objective Required
Regulatory Compliance
Product Family Description
Manual Iris
Objective Options Giving PMAG 0.58X – 2.9X
Clamp offers ¼-20 mounting hole
Optional LDL Tubes Double Magnification
Requires the Use of an MX Objective
InfiniMax™ is the newest addition to Infinity Photo-Optical's line of imaging lenses designed specifically for machine vision applications. Using a patented internal focusing system, the InfiniMax™ is able to provide constant magnification over a working distance range. (Using MX-3 through MX-6 objectives only. Working distance range varies by objective.) The MX-1 and MX-2 provide fields of view on the order of 10mm at distances over 10" away, but do not provide constant magnification over the working distance range. The included variable iris diaphragm can be used to adjust light intensity and increase depth of field. Interchangeable objectives thread onto main body. LDL and LFA adapters connect directly to C-Mount. LFA provides coverage for large format cameras (F-Mount adapter included, 24 x 36mm max sensor).
Note: The InfiniMax® requires the use of an MX objective below.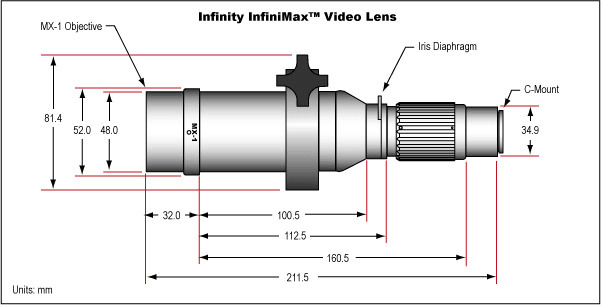 Technical Information
Objective
MX-1
MX-2
MX-3
MX-4
MX-5
MX-6
Primary Magnification
0.58 - 0.64X
0.78 - 0.81X
1.00X
1.16X
1.42X
2.90X
Field of View (½" Sensor Horiz.)
11.1 - 10.1mm
8.2 - 7.9mm
6.4mm
5.5mm
4.5mm
2.2mm
Working Distance
381 - 315mm
285 - 250mm
194 - 174mm
181 - 164mm
146 - 134mm
68 - 65mm
Size (Max Diameter x L)
52 x 32mm
52 x 32mm
52 x 64mm
52 x 32mm
52 x 32mm
52 x 26.2mm